How should B2B sales managers assign sales territories? Great question! Here are some important considerations to remember when you are assigning your territories to your sale reps.
Why Assigning Sales Territories is Important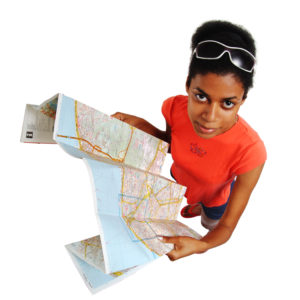 There are many benefits to defining sales territories among your sales team. These include better use of the sales reps sales time and improved customer service.
Yes, pretty much every sales manager would agree, one way or another, you have to have some type of sales territory assignment. Otherwise, it just causes confusion for everyone involved.
Having said that, how sales managers should assign sales territories is a subject has been debated for years. And I bet it will continue to be for many years to come.  The reason is that there are as many ways to distribute B2B sales assignments as there are sales managers!
How Should Sales Managers Assign Sales Territories
The best way to distribute your b2b sales assignments is situation specific. It really depends on the products or services that your company sells, the geography that you cover, the type of customer base you have, and the job description of your sales representatives.
Examples of How Sales Managers Assign Sales Territories
For example, if you have many products that you sell, you could assign the sales of each product to a different sales representative. This works extremely well in situations with complicated products that have long sales cycles. Each representative becomes a product specialist, providing better sales results and improved customer service.
If your company covers a very large geographical territory, one of the best ways to assign territories is by postal code or zip code. Simply divide all the postal codes available among all the sales representatives on your team. When using this method, it is important to ensure that each representative has approximately the same number of businesses in his or her territory. The information you need to do this is available from your local post office or their website as they use this information for their direct mail marketing services.
Another common way to assign territories is using vertical markets.  If your product uses a different sales process to sell to government accounts versus commercial accounts, for example, or if your customers who are lawyers have completely different needs than accountants, vertical market assignments can work very well.
Consider Your Sales Team and Their Job Descriptions
Lastly, you have to consider your sales team and the job you want them to do.  If you expect them to be 'hunters', then perhaps a geographical territory would be best.  On the other hand, if you want them to be 'farmers', then a vertical market or even specific names accounts is a better system.  Some companies prefer that their more senior sales people handle the company's biggest accounts.  Depending on the skills of your team, perhaps you need to use a combination of all the assignments options.
FREE DOWNLOAD!
How to Choose a Sales Training Program (Includes Decision Matrix Template)
Be Sure Everyone Understands the Territory Assignments
Regardless of how you distribute assignments to your sales team, it is critical that they be clearly published, and that you be willing to enforce them, no matter what. The moment you bend the territory rules for one situation, your sales team will expect you to do so again whenever it suits them.
Your assignments should also be written down and distributed to everyone in the company.  That way there is no confusion as to where a sales lead should be forwarded. The last thing you want is there to be any gray area as to who can sell where. Or even worse, to have one sales representative selling in another's territory.
For more techniques and tools to better manager your sales team, check out my eBook, Action Plan for Sales Management Success – Not just what to do, but how to do it! It includes a detailed 90 Day Sales Rep Success Plan that is sure to put your sales reps on the right road to success!
Remember as Warren Bennis once said, "Leadership is the capacity to translate vision into reality. More motivational quotes here.
Aim Higher!
Susan A. Enns, B2B Sales Coach and Author
Schedule a free sales coaching strategy session with Susan here.
"… what I can tell anyone, is simply this – If you want to learn and understand sales, talk to Susan."
Need answers to the questions sales people ask most? Then check out, Ask The Sales Coach-Practical Answers to the Questions Sales People Ask Most! In fact, each question and answer makes for a great agenda for your next sales training meeting.