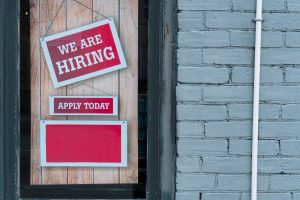 Sales is the lifeblood of any business. After all, you can't have a bottom line unless you have a top line. That is why so many businesses need to know how to find good salespeople. Their very survival depends on it!
Good Salespeople Are Hard to Find
Is sales recruiting easy? Absolutely not. Study after study shows that how to find good salespeople is one of the biggest concerns facing organizations today. In fact, the ManpowerGroup Annual Talent Shortage Survey consistently reports sales and marketing positions as one of the top three hardest to fill.
Year after year, country after country, pre and post pandemic, finding good salespeople is one of the biggest challenges organizations face. Yet few actually know how.
FREE DOWNLOAD!
How to Recruit the Best Sales Professionals (Includes 11 Telephone Interview Questions to Find Top Performers)
Should You Recruit From Your Competition
How to find the best salespeople? Just hire one from the competition. Sounds simple, right? Wrong! This may seem like the easiest and cheapest way to find a new salesperson. All too often, however, for small to medium sized businesses, this turns out to be the worst strategy possible.
There are several reasons why you should not hire your next salesperson from your competition. The main one being, it's almost always more cost effective to hire a person who has the right sales skills, and then train them with the particulars of yoru industry.
Where to Look for Sales Talent
Since it is extremely unlikely you have qualified sales candidates banging down your front door begging for work, you are going to have to advertise to find them. However, in today's world, a successful sales recruiting program is more than just placing an ad on a free local job board, pouring over hundreds of applications, and then picking the candidate with the best resume.
You have to put your line in the water where the fish are. In other words, you have to advertise where your target sales candidate is most likely to see it.
Looking to recruit the best sales professionals? Then you need to post your sales jobs on HireSalesTalent.com! It's where the best sales professionals are looking.
Use the discount code "B2B" and receive a 10% discount!
Where are Salespeople Looking?
Where are today's job seekers searching for their next career opportunity? According to a survey conducted by Clutch in 2019, although 25 percent of respondents found their most recent job using traditional networking, virtually all are also using digital media in their job search.
So, the question is not whether you need to advertise your sales positions on the internet, the question is where! We discuss many recruiting advertising options in our free whitepaper, How to Recruit the Best Sales Professionals, available from the B2B Sales Connections Free Download Centre.
However growing research though shows that shows the use of niche job sites, those that focus on a specific industry, region or marketplace, will continue to grow and provide better value and services for the employer and job hunter.
The most effective niche jobs boards like the B2B Sales Connections Job Board have a service where an email alert can be sent to the job seeker when a new job is posted that matches their search criteria. According to the Clutch survey mentioned earlier, nearly two thirds of job seekers (61%) reported automatic job alerts helpful to them in their job search.
How to Find Good Salespeople – Write Good Want Ads!
Write your ad to attract sales talent. You are competing against all the other opportunities. Sales professionals need to know 'what's in it for them.' Save the company history for the annual report.
Accurately define your job description with specific requirements & sales rep accountabilities. For example, do you need a hunter or a farmer? Will the sales person work from a home office or do they need to report to your office each morning? Is a base salary provided? Be clear and up front. Put the right information in your ad so that you are attracting a good fit and laying out expectations. For more ideas on how to write a sales related job description, check out 12 Ways to Find Game-Changing Sales Reps from Hubspot.
Should You Use Sales Recruiters?
Instead of advertising for sales candidates yourself, one option is to outsource the whole process and hire a professional recruiter to find your sales talent. This is a viable option for many organizations as long as the recruiter is experienced and specialized in sales recruiting. Otherwise, the recruiter may be no more qualified to find you a salesperson than you are, just much more expensive.
Your Virtual Sales Bench
One highly recommended practice in how to find good salespeople is to create your own Virtual Sales Bench. This concept is essentially creating your own database of potential sales candidates, ready to start on a moment's notice. In other words, as a sales manager, you should always be recruiting because you may never know when you will need to fill a vacant territory.
If you are always on the lookout for your next salesperson and if you keep an active file of resumes then you can quickly start the interview process when you have a job opening.
How to Create Your Own Database of Potential Sales Candidates
You should try and use the following strategy for recruiting whenever possible:
Give every salesperson who calls or knocks on your door a few minutes of your time. If you are impressed ask them if you could keep in touch in case you have an opening or they are looking to make career change in the future. No promises, just the opportunity to talk further at some point in the future.
Ask your best salespeople to recommend other sales professionals they know. Who better to understand what it takes to be a great salesperson at your company than your current top performers.
Pay your own employees a finder's fee if they refer you a salesperson. It also builds company loyalty.
Ask your business networking contacts, both in person and online, if they have worked with salespeople who impressed them with their knowledge and professionalism. Also ask your friends, neighbours, doctor, and lawyer too. Send them a thank you note after you made the initial contact.
Contact your college of university alumni office to ask for referrals.
Find a specialized sales professional search company that offers on-going resume search functions. The cost is very low compared to searching resumes files on the mega job boards. You can request profiles on candidates that match your specific needs as they find them.
Other Sales Recruiting Tips!
Start actively recruiting and interviewing and as soon as you realize a territory will be vacant. Studies show that most salespeople leave their current employer within 24 months. Determine your turnover rate and be ready to go.
Time is against you. Too many employers draw out the recruiting program. They think the next fish will be bigger and better. Often though, they end up loosing the good one to another employer who acted quickly. Once you find the idea candidate make them a job offer fast!
Don't play the lowball game. Companies that find one or two great candidates and then decide to bid them down to see who will accept the lowest offer often find this strategy backfires because all the people walk away. The candidates wonder if a company pulls a stunt like this before the employment contract is signed, what's in store for the sales person once they are hired? Be honest with the candidates up front and early in the conversation this way you both start the process on the basis of trust.
Do you have an On Boarding Process? Too many businesses believe that 'here's your business card now go out there and sell' is a proper on-boarding process. What you do when you bring a new person into your company will set the tone for their future success or failure. If don't currently have an On Boarding Process, a proven example and template to create one is included in our on-deman webinar, Your 90 Day Sales Rep Success Plan – How to create an On Boarding Process that puts your sales reps on the right road to success!
How to Find Good Salespeople? Reduce Turnover on Your Sales Team!
Turnover in your sales team happens when there is no longer a fit between the employer and employee. The relationship is no longer a win-win. Therefore it must end because both parties are not achieving their goals. The better you are in your recruiting and hiring practices, the better able you are to assess fit before the relationship starts.
If turnover is high, conduct an independent study to determine if there are internal and external problems that results in salespeople leaving. The best way to reduce your hiring costs is to build a stable, profitable sales force and keep the quality sales talent you already have so you hire less often.
Once hired, training maximizes the chance of success. It puts everyone on the same road, further securing the fit between the employee and the organization. The better the fit, the more likely the relationship can be successful in the long term. Therefore you are reducing 'churn' in your sales force overall.
We go into great detail on how to assess a candidate's fit for your organization in my book, Action Plan For Sales Management Success, including how to properly protect yourself in the recruiting process in case that perfect hire later turns out to be a dud.
The Bottom Line on How to Find Good Salespeople
Building a successful sales organization starts with building a successful sales team. To do that, a sales manager must use the right resources to attract, connect and hire the best sales talent available.
However, the sales recruiting methods that were effective just a few years ago will no longer work today. Sales professionals are no longer looking for their new career opportunities in the local newspaper want ads. Now, in ever increasing numbers, they are looking in very specific places online instead.
Sales organizations, many of which have much less money and fewer resources to work with, will need to change with the times. They will need a targeted and systematic approach to sales recruiting. Otherwise they simply will not attract the right talent they need to succeed in today's competitive job market.
For more detailed information on all the sales recruiting information discussed here, download a free copy of our white paper, How To Recruit The Best Sales Professionals which includes '11 Telephone Interview Questions to Find Top Performers', from our Sales Download Centre.
Now that you have found some good sales recruits, check out these tips for sales recruiters and interviewers to help you get the information you need to make the right hiring choices. Also, check out these tips on how to check a sales recruits references.
Remember as Jim Collins once said, 'Great vision without great people is irrelevant.'
Aim Higher!
Co-writen by Susan A. Enns and Robert J. Weese
B2B Sales Coaches and Authors, B2B Sales Connections
Schedule a free sales coaching strategy session with Susan or Robert here.