Do you need sales meeting ideas so your meetings are more effective? Do you always have to wait for a few stragglers to show up? Here's how to run an effective sales meeting so your entire team will be in the board room 5 minutes early waiting for you to start.
Ideas for Sales Meetings
To run an effective sales meeting you first need to plan it around information that will actually help your sales reps sell more.
Check out the video below for a quick and easy way to come up with the most effective sales meeting ideas, customized for your team.
Create a file folder labeled "Sales Meeting Ideas" and keep it handy. It could either be a physical file, or a list on your smart phone.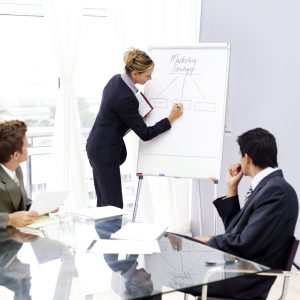 As discussion topics pop up during the week, just place a reminder note into the file.  On the day before the meeting when you are preparing your agenda, review your file or your electronic list. Then choose a theme for your next meeting. 
For example, perhaps a new order process procedure is resulting in a number of questions from the salespeople. You could write a note for your file to remind you to arrange for someone from the Order Processing Department to speak at your meeting. 
The Same Question Twice Makes For An Excellent Topic
As a general rule of thumb, if you receive the same question from two different sales people in a short period of time, it is an excellent topic for a sales meeting.  It's not that the others on your team don't want to ask the same question. They just haven't gotten around to it yet. 
Even if you are not receiving any direct questions from your sales reps, that doesn't mean they don't have any. In fact, in my experience, most sales people consistently ask the same questions. That's why I put the most common of them together in my ebook, Ask The Sales Coach-Practical Answers to the Questions Sales People Ask Most. Any one of the question and answer topics in it would make for an excellent sales meeting agenda.
Read Some Sales Blogs for Ideas
Read some sales newsletters and blogs. When you find a good sales tip, put it in your folder so that you share it with your team. For some quick sales tips that you can use in your sales meetings, check out our free sales resources at in the B2B Sales Connections Sales Resource Centre. They will have an immediate impact on your teams results.
Once you have your topic for a sales meeting, you need to discuss it with your team in a way they will retain it.
Remember, answer a question individually, and you will have to answer it several times, but answer it in a sales meeting, and you answer it only once.
The Virtual Sales Meeting
With events being cancelled and business travel severely restricted due to the COVID-19 pandemic, sales people and managers now need to rely more heavily on technology to communicate with each other.
Weekly sales meetings and one on ones can all be done very effectively with video conferencing, screen sharing, or webinars. In fact, my business partner and I managed a national channel sales organization to an incredible 39% year over year annual sales growth, all from the comfort of our home offices.
To get started on your virtual sales meetings, check out Skype, Zoom, or Join Me. Each of these apps have a free version and allow you to share your screen with your team. This way, you can present slide decks and proposals in exactly the same way as if you and your team were gathered around the same board room table.
Is Your Team Always Late For Sales Meetings
Do you always have to wait for a few stragglers to show up before you can start your sales meetings? Do you know you may be causing the problem in the first place?
The key to fixing this problem is to start your meetings on time, every time, no matter what. Check out this video for more details.
Nothing rewards tardy behavior more than making those who showed up on time wait for those who are late. When the meeting start time rolls around, just shut the door and start the meeting. You will only have to do this once or twice before your entire team will be in the board room 5 minutes early waiting for you to start the meeting.
Always start your meetings on time and end them on time so your team can get on with the rest of their busy sales day. After all, actual selling time is your team's most valuable resource, so don't waste it!
If your sales team is still always late for your meetings, perhaps they need to be more organized. Download How Sales Reps Should Organize Their Time from the B2B Sales Connections Free Download Centre.
Ultimately, in order for everyone show up on time, they have to want to be there. Although most sales managers hold regular meetings, few actually conduct productive sales meetings. Unfortunately, most just end up being a waste of valuable sales time, therefore making it a chore to attend for the sales representatives.
How to Run An Effective Sales Meeting
For more specific action items that you can use to take your next sales meeting from a deflating group complaint session to a revenue increasing, motivational team development hour, check out the ideas in our free webinar videos below, where we discuss quick and easy ways to make your sales meetings more interesting and productive.
Remember, even the best sales tips discussed in a sales meeting are a waste of time unless your sales reps use them, and sell more because of them.
Aim Higher!
Susan A. Enns, B2B Sales Coach and Author
Schedule a free sales coaching strategy session with Susan here.
"… what I can tell anyone, is simply this – If you want to learn and understand sales, talk to Susan."