What is the job of a sales manager? Ultimately it's to show their sales teams how to sell, not sell for them. In other words it's show how, not do for. It's teach, don't preach!
It's the Sales Manager's Job to Make the Salespeople Successful!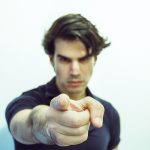 According to Indeed, a sales manager is responsible for overseeing daily operations in the sales department. While that job description is 100% correct, the actual job of the sales manager is to develop their sales team. In other words, the sales force drives the company's revenue and it the sales manager's job to drive the sales force.
As such, sales managers should always have to remember one simple rule. When you point your finger at a sales rep telling them they are doing a bad job, there are three fingers pointing back at you. 
Looking to recruit the best sales professionals? Then you need to post your sales jobs on HireSalesTalent.com! It's where the best sales professionals are looking.
Use the discount code "B2B" and receive a 10% discount!
We always have to remember to teach, not preach!
How many times is a sales representative newly hired and told 'here's your price book, now go out and sell' without anyone taking the time to show him how to process an order or the best prospecting approach to use? Or how often is a new product launched without giving the sales force the right pricing or a targeted list of companies to contact?
A mistake or customer complaint is just as much our fault as sales managers as it is the sales representatives. If you are not giving the tools to do the job right and not training the employees how to use them, we have no one to blame but ourselves.
FREE DOWNLOAD!
How to Choose a Sales Training Program (Includes Decision Matrix Template)
You Need to Develop, Train and Coach
There are many key skills a sales manager should have. However, on the top of that skills list is the ability to train and coach their salespeople. And the better you are at it, the faster you put your salespeople on the right path to success.
For more free sales management tips and videos, check out our Sales Management Resource Centre!  Or check out my webinar on demand, Your 90 Day Sales Rep Success Plan – How to create an On Boarding Process that puts your sales reps on the right road to success! It available for immediate download and you can watch it as many times as you like!
Aim Higher!
Susan A. Enns, B2B Sales Coach and Author
Schedule a free sales coaching strategy session with Susan here.
"… what I can tell anyone, is simply this – If you want to learn and understand sales, talk to Susan."