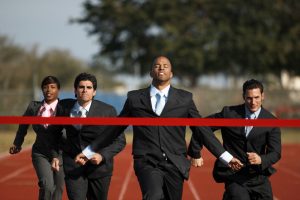 It's that time of the year again. The selling year is almost over and the end of the year push is on! And all over the sales world, sales reps and their managers are searching for tips on how to finish the sales year strong.
Forget the Holiday Shopping Countdown, we need to be concerned with the Year End Selling Countdown!
The Year End Sales Push is On!
Pull out a calendar. Once November rolls around and you take out the holidays, there are only about 30 selling days left in the year. That is not a lot of time left to secure your annual bonus!
The key at this time of the year is to ensure you have enough prospects on the go to produce the sales needed for you to finish the year at plan. Are you on track?
Don't kid yourself. When the December holiday season rolls around and people start taking their vacations, not every prospect you think will close will before the end of the year.
FREE DOWNLOAD!
Email Template to Start Stalled Prospects
What Will Close This Year and What will Close Next Year?
As such, as a sales person, you need to know where to focus your time and efforts. You need to ensure that you know the timing of the sale for each company on your hot prospect list. Essentially, you must separate what will close now, and what will close next year.
As the end of the year approaches, companies focus on implementation deadlines and expiring budgets. Therefore, to finish your sales year strong, you have to know where your solution is on their priority list.
Ask your prospects if they are planning to implement the solution now or in the New Year. If it's not going to happen until the next year, put it in your follow up file and move on. If they tell you it's now, however, you should focus on nothing else other than whatever it takes to complete that sale.
Customer needs to see an equipment demonstration? Phone them today and schedule the demonstration. Need to revise your quote? Calculate your new pricing immediately, and present it to the prospect tomorrow. The prospect ask you a specification question? Find the answer and email it to them today.
Review each company on your hot prospect list. For each one, realistically determine the next step to the sale, and then complete it as quickly as possible.
How to Finish the Sales Year? Focus on Implementation Schedules
It is also critical to remember that the time to implement your solution affects your year end results.
For example, if your product has a two week delivery time frame, and your customer wants to up and running before December 15, you need to get your contracts signed by December 1. Does your prospect know this? If not, you need to tell him.
It's typical in sales to have an increased sense of urgency when it gets close to the end of the selling cycle. On the last day of the month, we all get that "whatever it takes" mentality. This takes on a whole new meaning at the end of the year.
November and December should be treated as one long month. Always ask yourself, "Is this going to happen before the end of the year? If so, what can I do to move this sale forward today?" If something can be done, do it now.
How to Finish the Sales Year?
When you review your results, don't just look at how much you have sold so far, but also how much more needs to be sold. Break down larger targets into smaller ones that cover shorter time frames. For example, if you need to sell $21,000 in the last 2 months of the year to qualify for President's Club, make sure you focus on the $10,500 per month needed to qualify.
For more year end sales techniques check out our posts on controlling the time frame of the sale as well as the right questions to close the sale. Also, check out The Business Journal's 5 things you can do today to finish the sales year strong.
Remember, with the holiday season, business virtually shuts down around December 22, not on December 31. Each day between now and then should be considered "the last day of the month".
The New Sales Year is Just Around the Corner
As you are going through your prospect list and closing every sale you can this year, don't forget the new sales year is just around the corner. Not only do you want to finish this year off strong, you also want to get a quick start out the gate next year.
That makes this time of year a great time to focus on new lead generation. An email blast; a LinkedIn networking event; or a team telephone prospecting blitz day. These are all great ideas to make sure you have enough in your sales funnel to start the new sales year off right.
It's also a great time of the year to start planning on next year. To help you get started, download our free Goal Setting and Action Planning Worksheet.
FREE DOWNLOAD!
Goal Setting and Action Planning Tool
The bottom line is, if you can't close a sale today, then you should start a sale today.
Now focus and go out and finish your sales year off strong!
Aim Higher!
Susan A. Enns, B2B Sales Coach and Author
Schedule a free sales coaching strategy session with Susan here.
"… what I can tell anyone, is simply this – If you want to learn and understand sales, talk to Susan."
Do you have a question about sales? You're not alone.  Most salespeople have questions like this on how they can sell more. For the right answers, check out my book, Ask the Sales Coach-Practical Answers to the Questions Sales People Ask Most.