As a sales manager, you will be more successful if you help your team stay positive. However when times get tough, it can be hard for your team to do so. Here are some quick and easy things a sales manager can do to help improve their sales team's attitude and keep it on the positive side.
Give Your Team the Belief in Themselves
One of the greatest gifts my sales mentor ever gave me was the belief in myself that I could be successful.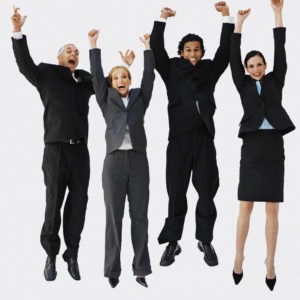 I can still hear John's Scottish accent ringing in my ear saying, "Once you have done it once, no one can tell you that you can't do it again!" As he coached our sales team to greater and greater heights, I realized that John always made a conscious effort to keep us motivated as part of his daily routine.
Later when I managed my own sale team, I also made attitude coaching a part of my daily routine, and my sales teams flourished as a result.
As sales professionals, we must make a conscious effort to stop being negative and start being positive. Here are 10 tips for salespeople, and everyone else for that matter, on how to get and keep a positive attitude. Having said that, the best sales managers consciously help their teams do that.
How a Sales Manager Can Help Their Sales Team's Attitude to be More Positive
As a sales manager, you will be more successful if you help your team stay positive. A negative attitude will cut into your team's sales results like cancer cuts through a healthy body. Simply put, you need to have the bad tissue surgically removed. More importantly, do something for your team each and every day to help them stay motivated.
Your Team Should Start Each Day on a Positive Note
A great way to do this is to have your team start and end each day with a positive thought. You could distribute or post a daily sales joke each morning. A good laugh can always put someone in the right frame of mind. If you don't know where to find a sales joke, here are more than 75 of the best sales jokes.
Your Team Should Also End Each Day on a Positive Note
Then at the end of the day, have each member of your team call a happy customer. Not only does this drastically help with your team's attitude because they leave the office feeling good about the company they work for, it does wonders for customer service too. It is also a great time to ask for referrals which can only help your sales results in the long run.
Motivational Quotes Really Boost Your Sales Team's Attitude
Another simple way to help your team stay positive is to use motivational quotes. One method that worked very well for me was to write a new quote on the white board in the sales room every day. As soon as they would arrive in the morning, every sales representative would see the day's positive thought. It was amazing at how this put me and my sales team in the right frame of mind. It simply made us all better mentally prepared to tackle the day.
If your team works remotely and they don't start each day at the office, you could also email or text the motivational quote to your team every day. It will be just as motivating.
Positive Attitude's are Contagious
Year later, I started to share these quotes online. Friends, family, and business associates all enjoyed them so much they started calling me "The Quote Lady." More importantly, everyone's positive attitude seemed to be contagious.
The more the motivation spread, the more everyone became motivated! That's why, to this day, I still share a daily motivational quote on all our social media. Check them out on:
I also decided to pull together a collection of my favorite motivational quotes all in one place and created the eBook, "Daily Motivational Quotes – If misery loves company, then motivation must breed happiness".  You can download the eBook here.
A Postive Sales Manager is the Best Tool to Improve Your SAles Team's Attitude
Lastly, to keep your team motivated with a positive attitude, maybe you need to change your thinking too. As sales managers, we need to teach our sales teams a new definition of failure. Instead of not reaching quota as the definition of failure for our sales representatives, we should define failure as them not completing the daily activities required to achieve it.
Are you a positive sales manager? Are you sure? Because often sales managers don't realize how even the shortest of phrases we use can affect their sales team's outlook negatively. To help with your sales leadership training, here's one simple tip that goes a long way to help your team stay in a positive frame of mind.
The bottom line is you can't expect your team to be more positive unless you are yourself. Lead by example.
Remember, your thoughts control your outcomes and you control your thoughts. So help your team choose wisely!
For more tips on how to get and keep a positive attitude, check out How to Keep a Positive Attitude – 10 Tips for Sales People To Get and Keep A Positive Attitude
Aim Higher!
Susan A. Enns, B2B Sales Coach and Author
Schedule a free sales coaching strategy session with Susan here.
"… what I can tell anyone, is simply this – If you want to learn and understand sales, talk to Susan."
For more motivational and sales management coaching tools and techniques to take your sales team to new heights, check out my eBook, Action Plan For Sales Management Success.