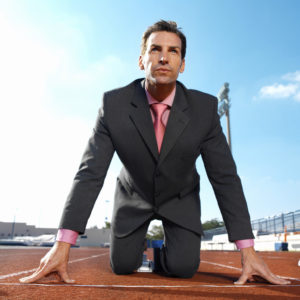 Are you considering the sales agent business model? In many industries independent sales agents make good business sense. Here's what you need to know to do it right, from the start.
Every week I receive emails and phone calls from companies that are looking to hire independent sales agents. They almost always see this as a cheap way to expand their market penetration. A cheap alternative to hiring direct sales people, if you will.
They don't have a plan, they don't have a budget and they don't know what they need. It's the old problem – they don't know what they don't know. However, they are sure if they can just find a few good sales agents the whole operation will magically fall into place and they will start making money.
Can You Save $$$ by Outsourcing My Sales Operation To a Sales Agents Business Model?
This is probably the most frequently asked question I am asked. Business owners see the sales agent business model as a cost cutting measure. Instead they should be looking at it as a method of generating more revenue. This is especially the case in territories or markets where they have little or no representation.
This as an accounting question (how do we cut costs?) instead of a sales question (how do we increase revenue?) If you are looking at utilizing sales agents as a method of cutting costs then you are most likely not going to dedicate the money and resources you will need to make the channel successful. Let's face it. You can build anything on the cheap but will it last.
FREE DOWNLOAD!
Framework For Finding Independent Sales Agents (With Template)
A Successful Sales Agent Business Model is About More Than Cutting Costs
A sales agent channel needs administrative support, a sales management structure, and support from accounting, production, shipping, legal and most other divisions within your company. The training and management of your sales agents will require a dedicated structure and that will cost you money. The funds you need to budget for the sales agent channel will depend on how serious you are about making the program successful. Low budget commitments will usually produce low budget results.
Are you pitching a tent or building a structure you want to endure? Too many business people that are looking for sales agents are taking what I consider a 'pup tent' approach to the exercise. They want to buy a cheap tent but expect it to perform like a well-constructed building. You can't approach the sales channel in this manner. If you are not willing to spend money to build a lasting structure then you are bound to fail right from the start. Your sales agent program needs proper planning, a strong foundation, framework, the right materials and internal systems to keep it functioning. This must all be overseen by a qualified manager to keep the project on track. If you build a sales agent channel with the same process it will have a much greater chance of success.
How Much Will It Cost to Recruit a Sales Agent?
Another question that is often asked by company executives considering the sales agent business model is, 'how much will it cost?' As usual the answer is 'that depends'.
Before you grab some number out of the blue you need to research the facts. What are your projected sales for the territory? How much revenue do you expect to generate from a specific territory? How much will it cost us to have a direct sales representative in the territory.
Once you have these projections you can begin to formulate a plan of attack based on your budget. Since an independent sales agent partner does not cost you salary, benefits or expenses, your upfront costs will be similar to recruiting a direct sales person. On the other hand, the long term benefits will be a reduced cost of sale for your company.
Currently selling your product or service through a direct sales force? Then you should be able to project the potential income of the agent's territory based on current sales figures.
Introducing a new product or just starting out? Then you will need to create a sales projection in order to determine your costs and profits.
Introducing a new product? You should also find out whether the sales agents will try to charge a 'missionary or pioneering' fee. This is not unheard of when an agent takes on an unknown, untried, unproven product.
How to Research Your Costs
I recommend the book OUTSOURCING THE SALES FUNCTION by Erin Anderson and Bob Trinkle. It's a great place to start your research on costing. It provides a detailed analysis comparing the cost of direct sales people and the cost of operating an outsourced sales team.
If you employ a direct sales person to cover a new territory it often takes a substantial investment of time and money before the sales person is producing consistent, significant results. Sometimes months of selling time are invested along with tens of thousands of dollars in salary, travel, and other expenses.
If you team up with a sales agent who is from your industry, they already has contacts in your target market. This alone can reduce the ramp up time and costs substantially. Utilizing sales agents who do not get paid if they don't sell can be a cost effective way to establish a new territory. After all, sales agents only get paid on results. A direct sales person, on the other hand most often gets paid regardless of their sales performance.
Other Considerations When Hiring Independent Sales Agents
Many companies believe that by joining forces with sales agents, who are currently selling to customers in your target market, they can ramp up your sales efforts faster and less expensively than if they try to hire and train a direct sales force to reach those same customers. Independent sales agents are inexpensive to use. They can quickly get your products in front of customers in markets that you don't currently service. It doesn't matter whether you are trying to expand across the country or internationally. There are sales agents in most industries and geographies who are on the lookout for new products or services that can enhance their current business model.
Regardless of whether your business has always relied on a direct sales force or you are just starting out and have no sales; you should understand that a successful sales agent program requires a partnership between your company and the agents you choose.
Many sales agents are successful, experienced, reliable, trusted experts in their field. They can provide a unique opportunity for you to reach a new market or penetrate a new territory. And they can do that at a fraction of the cost of hiring, training, managing, and paying your own dedicated sales force. Yes, reduced costs are a huge benefit. But that is only one of the reasons to hire independent sales agents. In fact, the benefits of working with sales agents extend far beyond the savings alone.
The Bottom Line on The Sales Agent Business Model
So what's the secret to working with independent sales agents? Simple. You need a comprehensive business model in place before you make your first contact with them. Sales agents are not interested in being approached with "half-baked" ideas and promises. You must learn the proper system for finding, recruiting, managing and operating within the unique parameter of the agent's business model.
A word of caution before you launch into a new direction. You need to ask yourself one question. Are you ready to commit the time, energy and resources required to make your sales agent program successful? If you are not willing to make this type of commitment, don't bother. You can be sure your channel will either fail to launch or never be successful. In fact, this is the biggest reasons why sales agent programs fail.
Do you need more detailed information about establishing your own sales agent business model? Check out, How To Find Recruit and Manage Independent Sales Agents. The book is a comprehensive guide on how to select, manage and motivate sales agents. It provides proven exercises, forms, and templates to equip interested sales managers with the necessary tools to run their own successful sales agent program.
To Your Success!
Aim Higher!

Robert J. Weese, B2B Sales Coach
Schedule a free sales coaching strategy session with Robert here
"When you lead a struggling sales division from the brink of closing to over $7.4 million dollars in annual sales you can be confident, Robert knows how to engage customers and build sales."
Testimonials for – How to Find, Recruit & Manage Independent Sales Agents
"You are going to see a move towards more sales outsourcing. Agents are going to play a very important role as more international companies are trying to break into the North American market."
"This fast-moving, practical book, based on years of experience, shows you how to leverage and multiply the sales potential of your products and services, selling five and ten times as much as you ever thought possible." Brian Tracy – Author, Ultimate Sales Success
"Bob has written a comprehensive guide which offers the reader a complete review of how to select, manage and motivate independent reps. He provides proven exercises, forms, and templates to equip interested sales managers with the necessary tools to run their own successful sales agent program. This book is essential reading for anyone interested in the independent sales rep business model"