How do you define your target market?
To maximize your prospecting time, you need to clearly define what types of companies will most likely buy your products. This definition is commonly referred to as your target market, and it is essentially a description of your current and future customers.
To properly define your target market, knowing who has bought your products in the past gives you valuable information of who will buy from you in the future.
So the first question you need to answer to define your target market is what do your customers have in common?
What do your customers have in common?
The best way to define where to spend your prospecting efforts is to analyze where you have been successful in the past.
What do your customers have in common? How many employees do they have? What industries do they operate in? How often do they use your product? What related products do they also use in addition to your product? What products do they buy from your competitors?
Your target market definition may be more specific depending on the product or service you sell.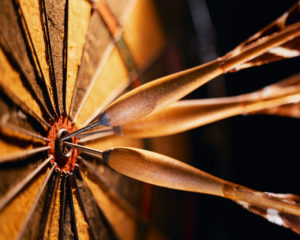 Make a list or spreadsheet of all of your last quarter's sales, and cross reference it to your target market definition, with a separate column for industry, size of business, geographical location etc.
Do you see trends emerge? Do you make more sales to certain sized companies in particular industries in specific geographical markets? Chances are you do, and that is where you should be spending your prospecting time.
The Bottom Line on How to Define Your Target Market
When you start to track your past successes, you can identify commonalities that help you define who is most likely to buy from you in the future.
In doing so, you clearly define your target market, ensuring you will spend most of your time talking to prospects that are most likely to buy.
Once you know your targets, spend your time where you're most likely to find them. Remember, just making more calls doesn't guarantee sales success, but making more calls to the right people does.
Don't just work harder, work smarter!
Aim Higher!
Susan A. Enns, B2B Sales Coach and Author
Schedule a free sales coaching strategy session with Susan here.
"… what I can tell anyone, is simply this – If you want to learn and understand sales, talk to Susan."
Do you have a question about sales? You're not alone.  Most salespeople have questions like this on how they can sell more. For the right answers, check out my book, Ask the Sales Coach-Practical Answers to the Questions Sales People Ask Most.