How to Use Public Speaking to Grow Your Business – Part of the Let's Talk Business Series with B2B Sales Connections
Welcome to this edition of Let's Talk Business. In this edition, I talk with Marlon Shaw of Speak and Grow Your Business.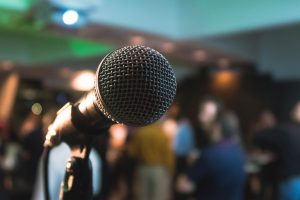 Marlon is an award-winning inspirational speaker, Distinguished Toastmaster, and certified speaking coach. If you are looking to grow your business through speaking, Marlon has put together a professional program that will make you more confident when creating and delivering high impact presentations.
How to Use Public Speaking to Grow Your Business
In this video, Marlon and I discuss:
Why you should consider speaking as a marketing strategy for your business.

Establish your expertise
Attract more clients
Increase brand awareness

What are some of the tips and important things that you need to know before you try to go out and do your first speaking engagement.

Understand what is the message you are taking to the marketplace
Who is that message for
What is the benefit they will get from that message

Why you need to lead with the audience's pain and NOT your bio
How to use stories to build trust with clients and prospects
What are the 5 Cs and why is this formula so important in public speaking

Character
Conflict
Cure
Change
Carryout message

Why you need to connect with your audience on an emotional level and how to do that to increase your speaking effectiveness
When to use props when you are on stage and when NOT to
The critical importance of proper preparation and rehersal before speaking, even when you are an experienced public speaker
Why, when you hone your public speaking skills, you empower yourself with the confidence to succeed
Marlon is always an engaging and enthusiastic speaker on stage, as he was in this episode of Let's Talk Business. And I really appreciate him sharing his expertise in this video.
Are you looking for more ideas and tips to gow your business? Then check out my Let's talk Business episode on how to use email newsletters for lead generation.
Aim Higher!

Robert J. Weese, B2B Sales Coach
Schedule a free sales coaching strategy session with Robert here
"When you lead a struggling sales division from the brink of closing to over $7.4 million dollars in annual sales you can be confident, Robert knows how to engage customers and build sales."
Looking for more ideas to generate more leads, reduce the buying cycle and close more business? Then download my free eBook, Attract New B2B Customers Fast and Effectively Using Outbound Lead Generation from the B2B Sales Connections Free Download Centre.