The written proposal is the most common of sales presentations in business to business sales. Unfortunately though, manay salespeople make their quotations far too long to be effective. So, how many pages should a business proposal be? Not as many as you think!
Is Your Sales Proposal Too Long?
Some sales representatives believe that the higher the dollar value of their product, the longer the quotation they need to provide. They include page after page of features and specifications, all of which is not needed for the prospect to make their buying decision. In fact, these long proposals could actually be hurting the sales process, not helping it. In other words, if you have too many pages in your business proposal, you are making it harder to close the sale.
How Many Pages Should a Business Proposal Be?
Proposify is a highly recommended online proposal generator. They collected and analyzed data from over 2.6 million proposals and the results are clear. Shorter proposals close better.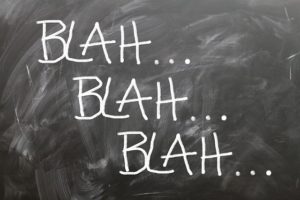 Regardless of how expensive or complicated your product is, a written proposal should not be longer than 6 pages, plus enclosures if needed. Too much information can actually slow or halt the sale, not move it forward.
Your prospect only needs just enough of the right information to make a logical buying decision. Did you need or want detailed blueprints of framing, plumbing and electrical wiring before you bought your house? Neither does your prospect!
Proposal Templates Save Time
There is no doubt that proposal templates save time, and help salespeople to close more sales faster. This is especially true when they are used as part of a well planned sales process.
For detailed information on how to make better sales presentations, check out my book Action Plan For Sales Success. It includes specific techniques and tools that you can use to impact your sales immediately, including a 6 page proposal template you can use to help you close more sales faster.
Or download my webinar recording, "Close More Sales by Making A Better Presentation! – How to present your product so that your customer actually buys" where I also discuss this winning proposal template. As one attendee stated, "Your sessions are too good for any salesperson to miss." More testimonials here.
FREE eBOOK!
How to Create a Unique Value Proposition That Helps You Find New Business Faster
Remember, as Pythagoras once said, "Do not say a little in many words but a great deal in a few."
Aim Higher!
Susan A. Enns, B2B Sales Coach and Author
Schedule a free sales coaching strategy session with Susan here.
"… what I can tell anyone, is simply this – If you want to learn and understand sales, talk to Susan."
Do you have a question about sales? You're not alone.  Most salespeople have questions like this on how they can sell more. For the right answers, check out my book, Ask the Sales Coach-Practical Answers to the Questions Sales People Ask Most.