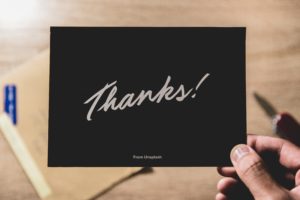 I am often asked if you should send a thank you note after an interview. My standard answer? Why not!
There are many reasons why you should send a thank you note after a job interview. It reaffirms your interest in the job. It is also an opportunity for you as the candidate to address any issues that may have arisen during the interview. Lastly, it can set you apart from the other candidates that are being interviewed.
There is no doubt. A professionally worded thank you note or email can do nothing but help you move the hiring process forward.  Be careful not to over-do it though. Believe it or not, it is actually possible to say thank you too much.
Send Your Thank You Soon After The Interview
The key to success of your thank you note is twofold.
First it needs to be sent very soon after the interview. In fact, it should be send before the end of business on the day of the interview itself. Such a timely email shows that you really want the position, and gives you the opportunity to clarify any issues that may have come up in the meeting. More importantly, it shows you are willing to go the extra step and that you pay attention to detail; two very important qualities for any position, especially in sales.
Address Your Thank You Properly
Secondly, you have to address your thank you properly. Don't guess at the spelling of the interviewer's name or their job title. If you get it wrong, you do more damage than if you never sent the email in the first place. Ask for their business card before you leave and then you are guaranteed to get it right. Or, if you if was a vitual interview, be sure to verablly confirm the interviewer's contact information.
Remember, just like a properly addressed cover letter attached to your resume, addressing your thank you note is critical to it being effective.
A Interview Thank You Note Template
Your thank you note does not have to be long or complicated. In fact, I think the simpler the better. For a great example of a thank you note you can use, Monster.ca has one here.
Your Job Search Process
It is also important that you track all your interviews and thank you notes you send.
If you would like a template that will help you track your entire job search process, you can download the Job Search Tracking Worksheet for free from the B2B Sales Connections Download Centre.
FREE DOWNLOAD!
Job Search Tracking Worksheet
More Sales Career Advice
For more sales career advice that will actually help you find your dream sales job, join us for our job search coaching. We have helped many sales professionals through this process. In fact, a recent testimonial said 'With (his) coaching and his help improving my resume I am getting on average 3-4 calls a day. It's insane. I know which jobs to definitely pass up but there are some 'interesting' opportunities coming my way.'
Are you looking to make a career change? For detailed instructions, step by step, on how to find your perfect sales job, (and by perfect, we mean perfect for YOU), check out our eBook, How to Find Your Dream Sales Job – The future is yours to create! How to write a resume to grab the attention of sales recruiters, a gender neutral cover letter template, what you need to include in your LinkedIn profile, how to prepare for a sales interview, what to wear, how to access the hidden job market, how to evaluate a job offer, how to resign from your current job …. IT'S ALL IN THIS BOOK!
Gratitude Goes a Long Way
Remember as John F. Kennedy said, 'As we express our gratitude, we must never forget that the highest appreciation is not to utter words, but to live by them."   More motivational quotes here.
Aim Higher!
Susan A. Enns, B2B Sales Coach and Author
Schedule a free sales coaching strategy session with Susan here.
"… what I can tell anyone, is simply this – If you want to learn and understand sales, talk to Susan."
Tired of looking through countless and irrelevant job ads? Check out the new and improved B2B Sales Connections Job Board! Search thousands of jobs for any location from all over the internet. You can even create job alerts to have the latest sales jobs delivered right to your inbox!