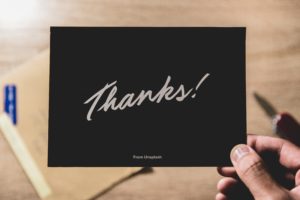 I am often asked if you should send a thank you note after an interview. My standard answer? Why not! A professionally worded thank you note or email can do nothing but help you move the hiring process forward. The key to success of your thank you note is twofold.
First it needs to be sent very soon after the interview. In fact, it should be send before the end of business on the day of the interview itself. Such a timely email shows that you really want the position, and gives you the opportunity to clarify any issues that may have come up in the meeting. More importantly, it shows you are willing to go the extra step and that you pay attention to detail; two very important qualities for any position, especially in sales.
Secondly, you have to address your thank you properly. Don't guess at the spelling of the interviewer's name or their job title. If you get it wrong, you do more damage than if you never sent the email in the first place. Ask for their business card before you leave and then you are guaranteed to get it right.
If you would like a template that will help you track your entire job search process, you can download the Job Search Tracking Worksheet for free from the B2B Sales Connections Download Centre.
For a great example of a thank you note you can use, Monster.ca has one here.
Remember as John F. Kennedy said, "As we express our gratitude, we must never forget that the highest appreciation is not to utter words, but to live by them."   More motivational quotes here.
For more sales career advice that will actually help you find your dream sales job, join us for our job search coaching. We have helped many sales professionals through this process. In fact, a recent testimonial said "With (his) coaching and his help improving my resume I am getting on average 3-4 calls a day. It's insane. I know which jobs to definitely pass up but there are some "interesting" opportunities coming my way."
Aim Higher!
Susan A. Enns, The B2B Sales Coach B2B Sales Connections
www.b2bsalesconnections.com, www.linkedin.com/in/susanenns, or www.twitter.com/SusanEnns
Download our free White Paper "How To Write An Effective B2B Sales Resume" from the B2B Sales Connections Download Centre.
B2B Sales Connections can make the recruiting and job search process faster and easier than ever before. For more information on what makes our job board services unique, visit Career Connections at www.b2bsalesconnections.com/career.php.
To view our current b2b sales job postings, please visit www.b2bsalesconnections.com/job_postings.php