Are you a positive sales manager? Are you sure? Because often sales managers don't realize how even the shortest of phrases we use can affect their sales team's outlook negatively. To help with your sales leadership training, here's one simple tip that goes a long way to help your team stay in a positive frame of mind.
Salespeople Deal With Rejection Daily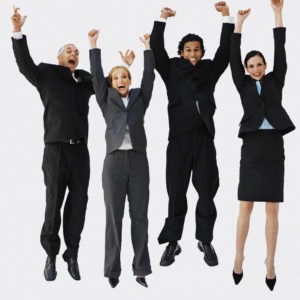 In sales, rejection is just something your sales team deals with every day. Even your top performers hear 'no' many more times than they hear 'yes'.
When they let it get them down, it shows to everyone they meet, including their customers and their colleagues. 
As such, as a sales manager, you must do everything you can to help them stay in a positive frame of mind. 
Salespeople Can Be Hard on Themselves
Sometimes it the simplest of things we do as managers that can put a negative spin on things in a sales rep's mind. For example, many sales managers always ask the question 'How did it go?' after a sales call.
Unless they signed the contract, most sales representatives will give you a negative answer. Something like 'I screwed up part of the presentation.' 'I didn't get the sale.' Or 'not as well as I hoped it would.'
Sales representatives are always harder on themselves than we as managers can ever be on them. As such, they just tend to focus on what they think went wrong as opposed to what they think went right.
Sales Leadership Training Advice – Use This Phrase!
To help them stay positive, ask them 'What's the good news?' instead. They make look at you a little funny the first few times you ask this question, but stick with it. They will quickly start to look at the positive. Soon they will answer with something like 'I didn't get the contract signed, but I booked the next appointment. So, we can keep the sale moving forward.'
Remember, sometimes it's the simplest things you do that help your sales team stay positive and be more successful.
FREE DOWNLOAD!
How to Design a CRM System
Sales Leadership – The Bottom Line
The bottom line is, a happy sales team is a more productive sales team. Therefore, as a sales manager, you should make keeping your salespeople attitude on the positive side part of your daily routine. Make it part of your sales leadership philosophy.
For more ideas on how you can help you team get and keep a positive outlook, check out How to Keep a Positive Attitude – 10 Tips for Sales People To Get and Keep A Positive Attitude.
Aim Higher!
Susan A. Enns, B2B Sales Coach and Author
Schedule a free sales coaching strategy session with Susan here.
"… what I can tell anyone, is simply this – If you want to learn and understand sales, talk to Susan."
For more proven sales management tools to help you and your team reach your sales potential, download my eBook Action Plan for Sales Management Success. It includes the detailed techniques used by today's top producing sales managers to help their teams sell more.