We're celebrating another member milestone! The B2B Sales Connections LinkedIn Group just keeps growing and growing! Proof of the power of social media marketing when people are engaged with relevant and topical discussions about sales and sales management.
Our Other LinkedIn Awards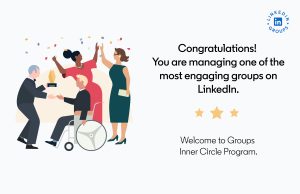 We've also been named "One of The 19 Sales Groups You Should Join On LinkedIn" and "One of the Top B2B Blogs on the net".
And now, among over 2 million LinkedIn groups, ours was one of the few awarded with the Inner Circle Certificate as one of the most engaging groups on LinkedIn.
Thank you to all our members who helped us achieve these accolades. Story by story, person by person, you helped us grow to 33,000 members!
The B2B Sales Connections LinkedIn Group Member Milestone
When we launched this group back in March 2010, there were only two members. That was my business partner, Bob Weese and myself. Wow, has our membership grown since then.
March 2011 – 660 members
March 2012 – 3500 members
April 15 2013 – 8,010 members
April 4 2018 – 26,508 members
November 30 2020 – 30,003 members
February 2022 – 33,000 members and still growing!
We would encourage all our dedicated social media followers, blog subscribers and LinkedIn Group members to invite a friend in the sales and marketing field to check out our group or pass along the link and invite them to see what is happening. There are lots of great discussions and communication between business professionals which is what make this forum so successful.
Everyone here at B2B Sales Connections are always looking for ways to help you reach your sales potential. Check us out and see what all the fuss is about!
A heartfelt thank you from both Bob and I to everyone for participating in our Group. We both hope we hit 40,000 members before long. Hey, we're in sales, there's always a new goal!
Aim Higher!
Susan A. Enns, B2B Sales Coach and Author
Schedule a free sales coaching strategy session with Susan here.
"… what I can tell anyone, is simply this – If you want to learn and understand sales, talk to Susan."
Whether it's accelerating your LinkedIn networking, creating an email drip marketing campaign, making your introductory phone calls, or a combination of the above, B2B Sales Connections develops the most effective lead generation program, customized for you to grow your business.