Are you a networking event planner looking for tips for planning a successful networking event? Do you need a space to hold your next event? Networking events provide an opportunity for professionals with commonalities to meet. These events can be educational and facilitate future business relationships. Hosting a successful networking event requires some planning ahead of time. In this article, we will discuss planning networking events and business networking events.
Planning a Successful Networking Event
As a networking event planner, you provide an atmosphere where professionals can focus on making connections. It should be an enjoyable experience for everyone. There are many different types of networking events that you could organize and plan.
Happy hour meetups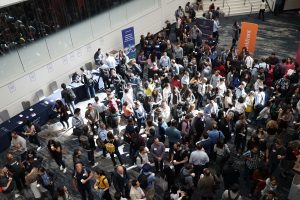 Happy hour meetups are informal networking events. Many times the planner of the event rents out a space at a restaurant or bar specifically for the group. During this time, attendees will have a chance to mix and mingle with other professionals, sample some appetizers, and casually get to know others more personally.
Industry-specific events
An industry-specific event is an opportunity to learn more about topics related to an industry or field. At these networking events, there's a time to visit and discuss with others in the industry. Also, there is a time for an expert or speaker who will teach the group about a specific topic. For instance, if an event is about marketing, attendees may learn more about topics such as email marketing or social media strategies.
Planning a Successful Networking Event for Virtual Groups
A virtual networking group is easily accessible. You can create a group on social media or develop online forums. The networking planner may have an expert in a specific industry give a video conferencing presentation. During this event, they can leave time for a Q&A session where you can message or video chat with other professionals about any questions.
Career fairs
Career fairs are a great springboard for people. Many colleges and universities host career fairs to give students a chance to explore potential career options.
At the event, students can talk to professionals and representatives from multiple companies. It's an opportunity for attendees to introduce themselves and ask a few questions.
Many times employers will post job openings at the career fair so always encourage your attendees to have their resumes ready to hand out.
FREE DOWNLOAD!
How to Write an Effective B2B Sales Resume (With Template and Example)
Planning a Successful Networking Event – Conferences and trade shows
Industries often combine conferences and trade shows as networking events. Trade shows generally take place at an expo center. At the event, businesses can set up a company-sponsored booth and present their products and services. Attendees can check out the products and ask questions if they are interested. This provides an opportunity for businesses to meet their clients face-to-face. Some trade shows offer a conference component and have seminars and keynote speeches that relate to an industry.
Breakfast or luncheon meetings
Breakfasts and luncheons are an option to enjoy a meal while making connections with others. As the networking event planner, it is your job to plan the meal and logistics of that. If you're part of a group you may plan to have a speaker or discuss important topics. This provides a place to connect with fellow professionals.
Community service groups
Volunteer opportunities always provide a chance to meet new people. If you are a non-profit organization, you can network by getting to know people who support your cause. Volunteers can meet more people in your community and create new contacts. Volunteering is also a great way to give back to a cause you love and support.
Planning a Successful Networking Event – Workshops
Workshops tend to focus on a specific topic or skill. These networking events can give attendees a chance to develop their skills while meeting new people. At a workshop, attendees may watch a presentation or participate in a more interactive learning experience. Some workshop events are held for individuals while others may be for team building. Depending on the type of workshop, attendees may be working on their own or working together as a team.
Roundtable discussions
Roundtable discussions are networking events where a small group of people can get together and debate or discuss a specific topic. This is a chance for attendees to share their opinions and perspectives on a topic while learning others' thoughts and opinions. Roundtable discussions should be respectful conversations and usually have ground rules. Each person should intently listen to what others have to say. There is usually a time for questions and closing thoughts.
Planning a Successful Networking Event for Business
Networking events are beneficial for any business. Connecting with others will help you grow your business and get to know people in the process. Business networking plays a crucial role in your brand visibility.
As we've already discussed, there are many opportunities to meet up with like-minded individuals. Networking events should be taken advantage of and attended.
FREE eBOOK!
How to Create a Unique Value Proposition That Helps You Find New Business Faster
Connect and meet key people in your industry
Meeting key people within your industry is the most important part of networking. These people are in similar positions to yours or working towards the same goal. Key people in your industry also offer valuable information. Networking is an opportunity to be inspired by others and connect with people who may be able to offer you a unique position. They can also introduce you to others who can also share their knowledge and expertise.
Connect with others you wouldn't otherwise know
Business networking events allow you to interact with a variety of individuals with different experiences and backgrounds. Talking with others from varying industry backgrounds can be educational and give you insight into areas outside of your industry. However, it may still be relevant information for you.
Stay updated on industry trends
Networking events provide time to visit with others and possibly time to attend informative presentations. These presentations generally offer new information, resources, and trends in your industry. The best part about this component of networking events is that it gives you time to stay on top of trends and visit about them with others in your industry. It's a chance to discuss what these trends mean for your business with others in similar situations. 
Brand Awareness
Take advantage of networking events to help you build brand awareness. Business networking events are a place for you to mingle with ideal prospects and influencers who should know about your brand. Word of mouth is another perfect way to gain brand awareness. It's essential that potential customers know who you are, what you do, and your future plans. You never know who may be interested in your brand. Collaboration is always to your benefit.
Finally, everyone needs a little inspiration, and networking events are an ideal place to find it. Building relationships and talking to others will give you ideas, encourage, and motivate you. It's up to you as a networking event planner to help facilitate a positive experience for those attending the event.
Aim Higher!
Susan A. Enns, B2B Sales Coach and Author
Schedule a free sales coaching strategy session with Susan here.
"… what I can tell anyone, is simply this – If you want to learn and understand sales, talk to Susan."
Are you looking to make a career change? For detailed instructions, step by step, on how to find your perfect sales job, (and by perfect, we mean perfect for YOU), check out our eBook, How to Find Your Dream Sales Job – The future is yours to create! How to write a resume to grab the attention of sales recruiters, a gender neutral cover letter template, what you need to include in your LinkedIn profile, how to prepare for a sales interview, what to wear, how to access the hidden job market, how to evaluate a job offer, how to resign from your current job …. IT'S ALL IN THIS BOOK!