Are you looking for some quick job search tips to find your next sales job?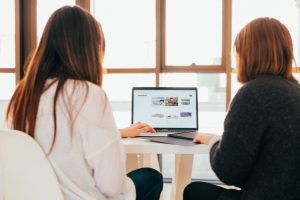 They say if you are good in sales, you are never unemployed. The problem is that if your sales job is not a good fit for you, not only are you not as happy as you should be, you are simply not earning the income you could. These tips will point you in the right direction to find your dream sales job.
B2B Sales Connections Quick Job Search Tips
The Best Quick Job Search Tip? Access The Hidden Job Market!
Posts about quick job search tips for salespeople rarely even include a mention abot the hidden job market. Unfortunately that's a mistake.
It is estimated that the hidden job market, or those jobs that are not advertised, is anywhere between 75-95% of the total number of jobs available. That means, for every job ad that you see, there are another 7 to 9 other jobs available that you don't know even about.
To Improve Your Job Search, Tap Into Your Networks!
To access this hidden job market, make sure you tap into your own networks. Contact your ex colleagues and managers to let them know you are looking to make a career change. Tell them about your skills, your qualifications and your aspirations. Also let your friends and business associates know.
Quite often your own networks will produce excellent job opportunities for you to investigate further. On top of that, a referral to a potential employer from someone who already knows you can be very powerful in helping you get your foot in the door.
Don't Wait for the Perfect Job, Go Out and Find It!
Recently a networking contact was complaining that he could not find a good sales job. After a few qualifying questions, it was clear that he was just sitting back waiting for the perfect job to be advertised somewhere. He was not using his sales skills to go out and find it!
If you truly want to consider all the available sales positions, you also have to go one step further. You have to develop a plan of action to tap into the hidden job market that is outside your personal network as well. Here's a 5 step plan to access the hidden job market and take charge of your own job search.
How To Track Your Job Search
It doesn't take long to lose track of what companies you have applied to and how. Lost career opportunities could result because you may miss an important follow up required for you to win the position.
One of the best quick job search tips is to prevent this. You should keep a log of where and when you've applied to each job. It doesn't have to be complicated, a simple spreadsheet will suffice. If you would like a template, you can download the Job Search Tracking Worksheet for free from the B2B Sales Connections Download Centre.
Once start tracking the companies and positions you have applied to, you will be able to more easily tell when and how you should follow up.
FREE DOWNLOAD!
Job Search Tracking Worksheet
Quick Job Search Tip – Always Send a Cover Letter
One of the best quick job search tips I regular give is to always use a cover letter!
Studies show job seekers who apply to online ads with both a resume and cover letter are 5 times more successful in landing interviews when compared to candidates who only include a resume. This includes when you are submitting your resume by email.
A effective cover letter is one that captures the interest of the recruiter. You want them to think, "tell me more!" It also needs to be addressed properly. That means it needs to gender neutral. Here's a cover letter template that is proven to work well for sales.
Apply As Directed
All job ads include the potential employer's preferred method for you to apply for the available position. Some prefer a resume by email, others still prefer fax, while others request you apply via the company's website.
Applicants who call a recruiter when a job ad requests another method do not necessarily appear as go-getters who 'make things happen'. They can actually appear disrespectful, unprofessional, and unwilling or incapable of following instructions.
Asking the recruiter to view your LinkedIn Profile when they asked you to email them a copy of your resume makes you appear as if you will not follow direction well once hired. Besides, simply posting links to your online resume most often is not getting past the spam blockers or the pre-screening process that protects companies from outside threats.
Answering a pre-screening candidate survey question with 'Please See Resume' makes you appear lazy and that you are not willing to put the time and effort in to be successful.
The bottom line is when applying for a job, thinking outside the box doesn't always help. However you can never go wrong when you apply as directed.
Quick Job Search Tip – Write a Resume That Recruiters Want to Read!
How to write an effective b2b sales resume is an indepth subject in itself. Below are just the key points to remember when updating yours.
For a free b2b sales resume template that gets you interviews for sales positions, visit the B2B Sales Connections Free Download Centre.
The Right File Format For Your Resume
Your resume cannot get you the interview if the potential employer can't open it.
Microsoft Word (.doc or .docx) files are widely accepted as file formats for resumes. So are .pdf files. If you don't have access to Word, Google Docs is available to use online for free to create these file types. Another file format option is to convert your resume to rich text .rtf format using the 'Save As' command in your word processing software.
FREE DOWNLOAD!
How to Write an Effective B2B Sales Resume (With Template and Example)
Lead With Your Best
Recruiters make their decision about a candidate during the first page of their resume. Some experts even believe you only have the first half of the first page. Therefore, you have to lead with your best.
If you are a recent graduate and your education is your greatest asset, then it should be listed first. However if you are a seasoned sales professional, your work experience should go first.
Regardless of whether you list your education or work experience first, you should always put your listings in reverse chronological order, with your most recent position listed first.
How Long Should Your Resume Be?
The length of your sales resume should not exceed two pages. If it is longer, edit it. The recruiter doesn't need the annual report from every company that you worked for. They just need to know your responsibilities, your achievements, and the skills you developed while holding this position. Anything longer is not being read anyways, so what's the point?
Spelling Mistakes on Your Resume Hurt You
A survey conducted by Accountemps reports that 76% of executives interviewed said that just one or two typing errors in a resume would remove applicants from consideration for a job; 40% said it only takes one typing error to rule candidates out.
Clearly spelling mistakes on your resume hurt you. And if you don't think they still happen, check out these funny spelling mistakes on resumes that your spell checker software would have missed. Always remember to proof read, proof read, proof read.
Quick Search Job Tip – Make It Easy for the Recruiter to Contact You
Even the best resume in the world will not get you the interview unless the recruiter can find the information he needs to contact you. Make sure all of your contact information, including name, address, phone and email, are front and center and not buried somewhere at the bottom in the text.
Only list a phone number that you want potential employers to call. Ensure that there is the ability to leave a voice mail because a recruiter will rarely call back twice. It's also not a good idea to have to leave it to your teenager to take messages either.
Lastly, many recruiters make first contact by email. Check your inbox daily and turn your spam filters off. You could even add the hiring company's domain to your safe senders list, just to be on the safe side. Countless career opportunities have been lost because the email from the potential employer was never answered.
Make it easy for a recruiter to contact you, and you increase your chances of getting the interview. Here are more tips on how to work with recruiters.
When A Potential Employer Contacts You, Respond!
This may sound pretty obvious for a quick job search tip for salespeople, but it needs to be said. If a recruiter contacts you, respond!
I received comments from two separate employers recently about how they have tried to contact potential candidates who have applied to their available position. Some candidates were left a voice mail and others were sent an email.
In both cases the recruiters' messages were very clear. They were being contacted to arrange an interview. The results were always the same, however. Absolutely no reply from the applicants!
For job seekers, this is inexcusable! If you have applied to the position, you are obligated to respond to the recruiter when he calls to arrange an interview. If you are not willing to do so, why bother applying in the first place? Even if it turns out that you are not interested in the position, common courtesy dictates that you at least respond.
In one specific situation, an applicant who was reached on his mobile phone stated he could not talk at the time, and told the recruiter he would call back when it was more convenient. Unbelievable!
If you have put your mobile phone number on your resume, don't even take the call unless you can talk. It's better to let the caller leave a voice mail than to put the recruiter off like this. In this case, the candidate never did call back which just goes to show he wouldn't have been a very good hire in the first place.
Punctuality Counts!
The bottom line is whether the recruiter contacts you by email or voice mail, you need to respond, and you should do it the same day. Why? Because these days, punctuality goes beyond just being on time for the job interview!
Make it easy for a recruiter to contact you, and you increase your chances of getting the interview. And remember, the initial contact made by the recruiter is when you make your first impression on your potential employer. Make it a good one!
Are You Looking to Make A Career Change
Are you looking to make a career change? For detailed instructions, step by step, on how to find your perfect sales job, (and by perfect, we mean perfect for YOU), check out our eBook, How to Find Your Dream Sales Job – The future is yours to create! How to write a resume to grab the attention of sales recruiters, a gender neutral cover letter template, what you need to include in your LinkedIn profile, how to prepare for a sales interview, what to wear, how to access the hidden job market, how to evaluate a job offer, how to resign from your current job …. IT'S ALL IN THIS BOOK!
Susan A. Enns, B2B Sales Coach and Author
Schedule a free sales coaching strategy session with Susan here.
"… what I can tell anyone, is simply this – If you want to learn and understand sales, talk to Susan."
Tired of looking through countless and irrelevant job ads? Check out the new and improved B2B Sales Connections Job Board! Search thousands of jobs for any location from all over the internet. You can even create job alerts to have the latest sales jobs delivered right to your inbox!