How can salespeople work from home effectively? Who in the sales world didn't ask that question the Monday after the COVID-19 Pandemic began.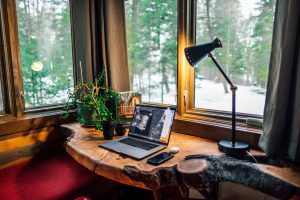 This is not the first time I personally have gone through something like this. The first was a few years ago when I was diagnosed with cancer. My immune system was compromised from undergoing chemotherapy and it was during the cold and flu season of a Canadian winter. Essentially, I had to self isolate. Even still, my doctors, family and friends were all amazed at how positive my attitude was through the whole process.
Actually, salespeople working from home effectively is not a new idea. Whether it's was a corporate decision to reduce overhead expenses, or a personal decision to cut travel times, more sales professionals were working from home offices even before the pandemic began.
I also have been lucky enough to work from a home office for the past 18 plus years. Simply put, I wouldn't trade the lifestyle for anything. I have even found I can accomplish more in a day than when I was working in a traditional office environment. Having said that, I have taken certain steps to ensure I stay productive.
How Salespeople Can Stay Productive Working From a Home Office
As many sales professionals are now adjusting to the reality of working from home, and many will be doing so permanently, here are some of tips on how salespeople can effectively work from a home office, and keep a positive outlook in the process.
While some salespeople thrive when working from home, others really struggle to stay on track. Here are my top four tips to working productively and effectively from home:
Salespeople Working from A Home Office Tip #1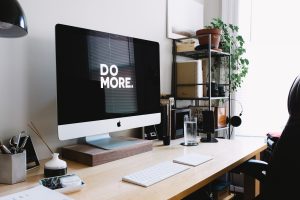 Have a designated work area so that you are still technically going to the office every day. It may only be a 30 step commute as opposed to a 30 minute commute, but you want to have a place that is your own that is set it up with all the tools you need to be productive. You also want your own space so that when you arrive there, you are mentally at work, not at home. Besides, working at the dining room table allows for far too many of life's daily distractions to creep in, not to mention great family discord when everyone wants to eat.
Salespeople Working from A Home Office Tip #2
Keep regular work hours. First and foremost, you need to practice self-discipline to do what you need to do each and every day to be successful. However, if you work until midnight every day, you are going to burn yourself out very quickly. Working from a home office doesn't mean your home life needs to be all about work. At the end of the day, shut your office door and go "home". If you worked at a downtown office you wouldn't be there 24/7 to answer your phone, so why should you when you work from a home office. If the phone rings during dinner, let it go to voice mail!
Salespeople Working from A Home Office Tip #3
Get dressed for work each day. If you spend your day in your pajamas, mentally you are in lounge mode, not work mode. You don't have to wear a suit and tie every day, but at least dress in business casual attire so that you feel like you are ready for work.
Salespeople Working from A Home Office Tip #4
Schedule time to meet and speak to other people. Sales people are not loners. It's in our nature to need to connect with people. As such, many sales people who work from home start to feel isolated after a while, and their sales performance can really suffer as a result. To prevent this, take the time to network, both online and in person at local networking events. Use free online video conferencing like Skype to connect "face to face" with colleagues who are also working out of a home office. If you are a sales manager, schedule weekly conference calls or webinars with your sales people who do not report into your office every day. Personally, I volunteer on an organizing committee of a local charity so that I still feel part of a larger team.
Working from Home Requires Time Management
Virtually every post I have read about how salespeople can work from home effectively talks about structuring your time and creating a routine. For detailed information tips on how you can structure your new daily sales routine, check out How Salespeople Should Organize Their Time.
Even if you are not in sales, you need to adjust your schedule when working from home. Tips like taking regular breaks from the computer and working in some exercise will go a long way in keeping your work and home life in balance. For some excellent organization and time management information, check out PC Magazine's 20 Tips for Working From Home.
You are also going to need to limit distractions and set boundries with your family. This could mean you need to invest in some changes in your work environment. For some ideas on how to get your environment and family organized, check out Easy Tips to Help you Stay Productive While Working from Home.
Managing Customers and Sales Teams Remotely
When COVID hit, events were cancelled and business travel was severely restricted. From that moment, salespeople and managers needed to rely more heavily on technology to communicate with customers and colleagues. In other words, how salespeople could work from home productively meant that their sales managers had to change how they coached their teams.
So how do you manage your remote workforce more effectively? Weekly sales meetings, one on ones, candidate interviews, and sales calls can all be done very effectively with video conferencing, screen sharing, or webinars. In fact, my business partner and I managed a national channel sales organization to an incredible 39% year over year annual sales growth, all from the comfort of our home offices. In fact, we got very creative at how to handle face to face client meetings when working from a home office.
Also, collaborating on various work projects and files can easily be done using various cloud based tools.
Below are links to some tips on how to conduct remote sales calls and meetings more effectively. This includes some free apps to get your started:
How to Stay Productive and Keep a Positive Attitude in Stressful Times
Business will definitely be affected as events progress. In fact, it already has. To what extent, however, is left to be seen.
However, in sales, we have some experience with business slow downs. To us, it tends to happen every summer and holiday vacation season.
These annual "hurry up and wait" periods can be very stressful. As well, it can be a time when sales people struggle to find the right activities to stay productive. To help, check out these blog posts:
What Does The Future Hold?
No one really knows. Chances are though, sooner or later, life will throw another curve ball your way. All you can do is prepare for it.
Whether it's by corporate mandate, by personal choice, or because of the global pandemic, working from a home office environment can be rewarding and cost effective. More importantly, if you take the time to create a designated work space, both physically and mentally, it can be very productive as well.
In the meantime remember, as W. Clement Stone once said, "You are a product of your environment. So choose the environment that will best develop you toward your objective."
And above all else, stay safe and be kind to one another in these trying times.
Aim Higher!
Susan A. Enns, B2B Sales Coach and Author
Schedule a free sales coaching strategy session with Susan here.
"… what I can tell anyone, is simply this – If you want to learn and understand sales, talk to Susan."
Do you have a question about sales? You're not alone.  Most salespeople have questions like this on how they can sell more. For the right answers, check out my book, Ask the Sales Coach-Practical Answers to the Questions Sales People Ask Most.